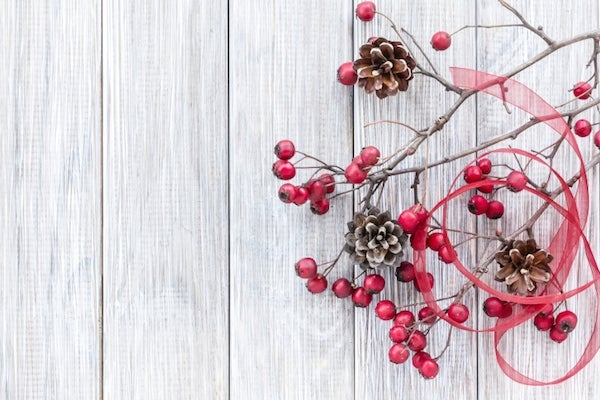 Although
the holiday season can be a hectic time
 for showing and
selling your home
, there is a major advantage to
staging
and showing your home at this time of year: You have a chance to show your home at its very best, adorned with
warmth and cheer
that's sure to charm.Nothing is more inviting than a home brimming with greenery, twinkling lights and holiday decorations. But how do you do it without
overdoing
it for potential buyers?The ExteriorFirst impressions are important. If you live in a snowy area, make sure walkways are cleared. Do you have late fall leaves littering the ground?
Rake them up
. Also, make sure the walks and stairs are free of ice.A few exterior holiday lights or decorations show pride in ownership and seasonal cheer, but they don't add anything during the day when potential home buyers will be looking at your home—so don't overdo them.Another thing to consider: Would-be buyers may view it favorably if nearby homes are brimming with lights—it shows unity and
neighborliness
—so you'll want to find a tasteful balance.To make your
home shine
during the day, look for a few tasteful seasonal decorations, such as a pine wreath for the front door or a holiday-themed welcome mat.The InteriorA tree in the living room or den can help potential buyers envision themselves spending many holidays to come in your home, but keep these tips in mind when choosing and decorating your tree:
Look for a tree that fits in the space, without crowding it. You don't want to make the room look small or uninviting.
Choose neutral decorations such as clear lights, gold ball ornaments or simple snowflakes. Keep the personal family ornaments packed up this year.
Move furniture out of the room if necessary to make the tree fit.
Adding a few decorations throughout the house can enhance the beauty of your home; however, keep decorations on the conservative side. You want your house to be noticed—not your stuff. For example, a simple garland along the staircase or a few holiday candles on the mantle or in the kitchen all add
a touch of the season
without going overboard.Setting the Stage for Selling Your HomeWhen you're showing your home to potential buyers, add a few
finishing touches
to make your home feel more open and inviting.
Winter can be a dreary season; to combat this open curtains and blinds to let in

 

more natural light.
Turn up the heat so buyers aren't rushing through to get out of the cold.
Bake holiday cookies or make hot chocolate on the stove. The scents will fill the air and remind buyers of their own holiday traditions.
Turn on the outside lights if the sun is setting and light up the tree.
Ultimately, you want to convey the love, comfort and joy your family has shared in the house, so that buyers will be eager to move in and create their own holiday memories.Updated from an earlier version by the realtor.com® team.