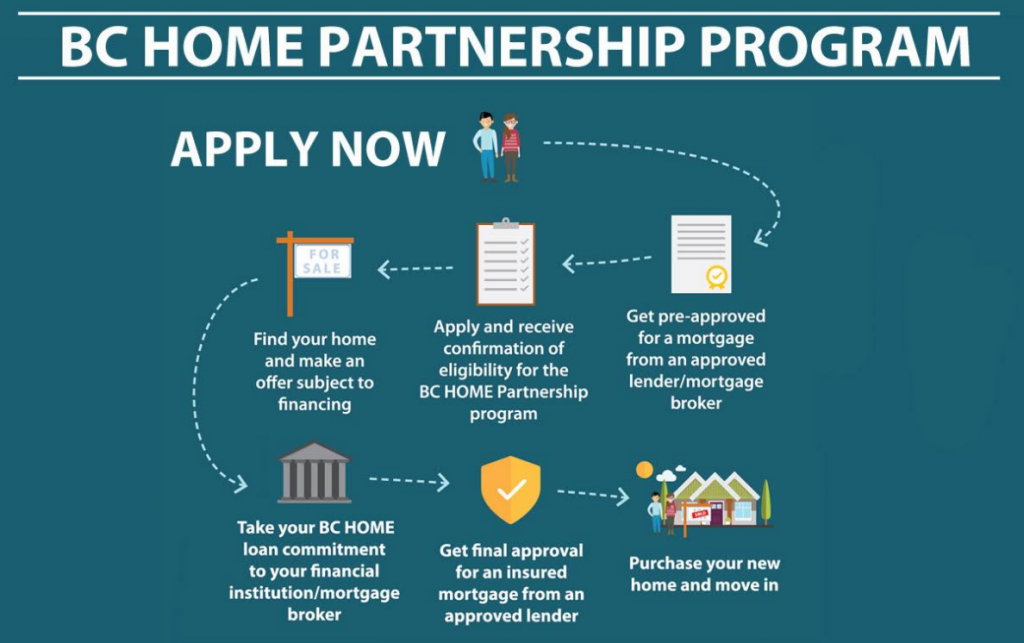 The BC Home Partnership Program for first time home buyers is in effect until March 31, 2020. Further details on this program have been released and are as follows.

To qualify for BC Home Partnership Program, anyone who appears on the title of the home must meet the following criteria:
1.  Be a Canadian citizen or permanent resident for the last five years
2.  Have lived in British Columbia for at least the full 12 months preceding your application
3.  Be a first-time home buyer who has not owned an interest in a principal residence anywhere in the world at any time and has never received a first-time home buyers' exemption or refund
4.  Purchase a home that is $750,000 or less
5.  Be eligible for a high-ratio insured first mortgage for the home
6.  The combined, gross household income of all individuals on the title must not exceed $150,000
7.  The home being purchased must be used as the principal residence of all individuals on the title for the five years after purchasing
8.  Borrower must have partial down payment saved.All lenders require a payment for the loan be included in the debt servicing calculation. The loan amount is to be amortized over 20 years and calculated on the contract or benchmark rate, whichever is higher. While the first five years is interest and payment free, you may make additional payments or repay the loan in full at any time with no penalty. At the beginning of the sixth year, interest will start accruing and you will begin making principal and interest payments, amortized over the remaining 20 years.

CMHC will recognize the loan as a non-traditional source of down payment which results in a slightly higher insurance premium instead of the traditional down payment premium (non-traditional down payment premium is 3.85% vs traditional 3.60%). The total combined down payment amount must be below 20%. Additionally, the loan will be registered as a second mortgage on the subject property. Contact Us for further discussion!